Sharp QS-2770H Desktop Calculator
The Sharp QS-2770H ten key printing calculator is touted as durable and quiet, perfect for anyone's home office or even for commercial use. The features that make the QS-2770H from Sharp a good desktop option include 2 color ribbon printing and a high speed print out of 4.8 lines per second.
I haven't personally used this particular calculator, because, well, I like the one I've got (but this one looks good if you're in the market for something different than my preferred ten key).
Sharp QS-2770H Features
A press of the "date" key prints the date right onto the paper tape. It has a large 12 digit blue fluorescent display that makes it easy to read in a variety of lighting conditions. Also, the Sharp QS-2770H has a tax rate key that will remember your tax rate and allow easy tax calculations.
This printing calculator has memory + – * / keys and a grand total memory key, allows for a floating decimal or a fixed decimal at 6, 3, 2, 1, or 0 places. You also get an item count in the display for extra convenience and error checking. See the image below for a close up of the key configuration.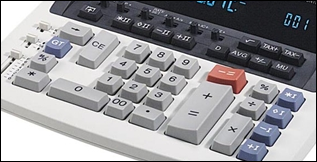 This calculator also uses printing paper, two-color printing ribbon, and an AC power supply.
Printing paper size: 2 1/4" (57mm) – 2 9/32 (58mm) (width), 3 5/32" (80mm) (diameter)
Weight: 4.85 pounds
Feature List
The QS-2770H is a ten key printing calculator with an easy-to-read 12 digit display, automatic three digit punctuation, and an item counter display.
Fast and Quiet – Heavy duty, printing approximately 4.8 lines per second.
Professional Keyboard -The keyboard is engineered for comfort and ease to help increase productivity and reduce fatigue.
Easy-to-Read Blue Fluorescent Display
Printer – Prints 12 numerals, 2 symbols, and 3-digit punctuation in two colors with positive numbers in black and negative numbers in red.
Sculptured Keys – Keys are designed for fast and comfortable use. Extra ease is provided by contoured +/= and -/= keys. Frequently used Multiplication, Zero, and +/= keys are extra-large.
Grand Total – Add the grand total of several calculations such as the total prices times units on an invoice.
Convenient MU Key – MU (Multiple Use) key simplifies business calculations to save time and increase efficiency by handling functions like margin, markup, selling prices, costs, and percent changes.
Additional Features – Features include independently accessible 4-key memory, date key, automatic first factor accumulation, average keys, item counter, 2-key rollover, double zero key, sign-change, and right-shift keys.
The QS-2770H is a commercial quality printing ten key calculator, useful at tax time or any time you need a printing calculator.